USA Store
Patriotic Gifts
Books > America 01
American Pride
Poems Honoring America and Her Patriots!
American Pride by David G. Bancroft, USA Patriotism! founder, is a collection of 100 plus patriotic poems related to our beloved USA and all the loyal patriots ... that he wrote starting shortly after the terrorist attacks on September 11, 2001.

These heartfelt poems honor our great country and those who have been there for Her throughout Her glorious existence ... starting with the Founding Fathers and carried forward by leaders, heroes, and other proud Americans ... answering Her call to do what was necessary to preserve the land of the free and home of the brave ... with so many valiant ones paying the ultimate sacrifice and even more returning home as wounded warriors.

And it is all about being one nation of "We The People" graced by Old Glory flying above... under God!
David Bancroft's stirring illustrative video about "American Pride" ... includes heart grabbing scenes that underscore ... just how priceless it is being ... an American!

American Pride is also available online at ...
God's Glory™ Bible
God's Glory™ Bible is a limited FIRST EDITION King James Version Holy Bible wrapped in ... 13 stars - 1 gold star representing Jesus Christ and 12 white stars representing his disciples; all of the stars together represent the 13 original colonies of the United States of America! stars and stripes that is printed and bound in the United States of America.
This one-of-a-kind Bible is a large print, red-letter edition that comes in a flag-red presentation box with a certificate of authenticity. God's Glory™ Bible is an heirloom for future generations with both a presentation page and family records pages for personalization.
Additionally, this unique Bible contains inspirational testimonies of four Americans who have made a difference in the U.S.A. by their selfless actions and deeds.
Ameritopia: The Unmaking of America
Mark R. Levin's Liberty and Tyranny made the most persuasive case for conservatism and against statism in a generation. In this most crucial time, this leading conservative thinker explores the psychology, motivations, and history of the utopian movement, its architects, and its modern day disciples – and how the individual and American society are being devoured by it.
In Ameritopia: The Unmaking of America Levin asks, what is this utopian force that both allures a free people and destroys them? In the end, Levin's message is clear: The American republic is in great peril. The people must now choose between utopianism or liberty.
What America Means To Me
Retired FBI Agent, Al Chestone, speaks loud and clear about the meaning of American Patriotism in his heartfelt book, "What America Means To Me".
It is my sincere belief, that if we are to remain a free, and strong democracy, as one Nation under God, we must without the slightest doubt, "Pledge Allegiance to America". We must stand united, determined to identify and expose the "Anti-Americans" within our country, who have total disregard for the labors of Our Founding. Fathers. The enemy exists within our society as both, individuals and as well funded organizations, constantly "chipping away" at our Declaration of Independence and Constitution, with fierce determination to change our form of government. They are intent on eliminating any reference to GOD, regardless of how, when and where, knowing that the majority of our citizens are of the Judeo/Christian belief. We are Christians and Jews, and people of every faith, who believe in God, who will unite to resist the "enemies", whose purpose it is, to deny us of our freedom and strip us of our freedom to worship God as we desire. As united believers in God, we must make certain that our lawmakers do not succumb to the demands of the "enemy within" and their constant "rabble-rousing" methods, aimed at the destruction of Our Heritage, Our Culture and Our Form of Government.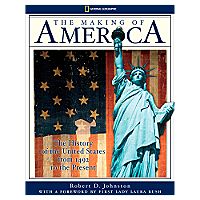 This fascinating book chronicles the history of our nation from the earliest European immigrants to the trying issues of today. The Making of America packs over 300 pictures and illustrations into 224 pages. Yale Professor Robert D. Johnston mixes biographies of key individuals and the debates of key issues and how they are relevant today.
The contributions of men and women of various ethnic and racial backgrounds, timelines, historic documents, period art and photographs makes this book a valuable resource for the entire family. Forward by First Lady Laura Bush. Over 300 photographs and illustrations. For ages 10 and up.
American Documents Series

These titles are an important book series for kids, focusing on documents that form the cornerstone of American democracy.

Each book takes an in-depth, close-up look at the key documents that set the guidelines for how government works in the United States and how it came to be. Full text of the documents are included.

For ages 10 to 14
Portraits of America

Renowned photographer William Albert Allard presents a vibrant chronicle of the American way of life.

With many never-before-published images, this book highlights some of Allard's finest work, and portrays some of America's finest features. 165 full-color photographs, with a foreword by Pulitzer Prize-winning author Richard Ford.
Written by Lynne Cheney, author and wife of Vice President Richard Cheney, to honor this "beautiful land made more beautiful still by our commitment to freedom," America: A Patriotic Primer is a proud celebration of the individuals, milestones, and principles of this nation.
Each busy spread features elaborately decorated letters of the alphabet, with one or two kids draped over its bars and loops, along with the highlighted concept or person.
1001 Events that Made America

This handy, informative chronology of key events in our history sweeps from 45,000 B.C., when the first intrepid Asians crossed the Bering land bridge to populate North America, to the 21st century, which finds us the richest and most powerful country in the world—a prodigious, panoramic journey marked by more than 1,000 milestones and turning points, each explained in concise, lively detail. From Plymouth Rock to Pearl Harbor, from the Civil War to the Civil Rights movement, from George Washington to George W. Bush, we learn what happened, who was involved, and why it's important.