USA Store
Law Enforcement
Other Items
For My Policeman's Watch
Show the police officer in your life how much you appreciate his courage and commitment to law enforcement with this exclusive Policeman watch.
This exclusive fine jewelry design will be as steadfast as your man of duty with solid performing precision quartz movement and water resistance up to 3 ATM.

Handcrafted in stainless steel, this Policeman watch features a bold bracelet style with a silver and gold-toned finish with a policeman's badge shield.
A Police Officer's Personalized Welcome Sign
Putting your life on the line each day to ensure the safety of others takes a special kind of hero. Now, you can show your support for America's brave police officers with the first-ever Police Officer's Personalized Welcome Sign ... personalized with a family name. This exclusive custom wall decoration celebrates police bravery wherever you display it.

Over a foot tall and expertly handcrafted by master artisans, this American-made wooden welcome sign features a handsome portrait by acclaimed artist Jim Griffin against a backdrop of the U.S. flag and the roaring action of another acclaimed artist Michael Herring's squad cars to the rescue below. Best of all, your family name is custom printed at the bottom, just above the shield symbol! It also makes a striking gift for a police officers.
Police Crystal Heart Pendant
To "Serve and Protect" is a way of life for law enforcement professionals. You can wear a tribute to these brave men and women with this police crystal heart pendant necklace.
This stunning heart-shaped pendant is handcrafted of faceted crystal and features the image of an American flag embedded within. The front of the sparkling crystal heart is adorned with a sculpted eagle badge of solid sterling silver richly plated in 24K gold, and the words, "Serve and Protect." Etched on the back are the meaningful words, "Honor, Courage, Valor."

This women's jewelry pendant comes with a decorative 18" solid sterling silver chain plated in gleaming 24K gold. It's a fine jewelry design exclusive from The Bradford Exchange, and arrives in a deluxe velvet pouch and gift box.
There is nothing more noble than saving lives and keeping the peace. Now, show your respect and support for this reputable profession when you use these policeman checks. Four bold designs feature a different police themed check including, "To Protect & To Serve POLICE" with a police hat and dog, "Police wear a badge of COURAGE" with a patrol car and a badge, "Police Officers HEROES that answer the call" with a flashing light and walkie-talkie and "Going above and beyond the shield POLICE" with a hat, badge and handcuffs.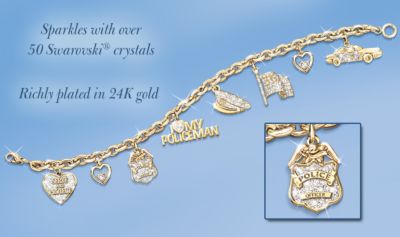 I Love My Policeman Charm Bracelet
Answering the call to serve and protect, police officers risk their lives to uphold the law and make our streets safe. Now you can honor this person of courage and commitment in your life with the I Love My Policeman Charm Bracelet, a fine jewelry creation available only from The Bradford Exchange.
Beautifully handcrafted, this stunning keepsake jewelry is richly plated in 24K gold for a gleaming finish you'll love to wear. Delight in the 8 detailed charms, that sparkle with a total of over 50 genuine Swarovski crystals. Each charm represents a different symbol of your police officer's call to duty for a fitting tribute.
There's the policemen's motto - Serve and Protect - plus, a badge, service cap and more. Hurry to bring home your police charm bracelet to keep your brave hero close to your heart everyday. It also makes a great police jewelry gift!