"USMC Semper Fi" Reversible Shield Pendant Necklace
A long-standing symbol of the Marine Corps, the Sword of Honor, combines with the eagle, globe and anchor emblem in the USMC Semper Fi Pendant Necklace, a distinctive shield pendant honoring the enduring legacy and tradition of the United States Marines. A fine jewelry design exclusively from The Bradford Exchange and officially licensed by the United States Marine Corps, this USMC dog tag pendant is handcrafted of solid stainless steel with 24K gold and rich black ion plating.
The Marine Corps emblem and famous Sword of Honor and sheath are featured in raised relief on the front of the shield, which resembles a dog tag. Engraved on the reverse side of the pendant is the Marines motto "Semper Fidelis" along with the Marine Corps emblem and the Corps values of "Honor Courage Commitment". Your USMC Semper Fi Pendant Necklace arrives with a matching stainless steel chain, jewelry pouch and custom box, perfect for safekeeping or gift giving.
USMC Strong Pendant Necklace
You may not see the combat or hear the boots, but men and women of the United States Marine Corps are always protecting us day in and day out. Now, you can show your unwavering pride to the enduring, Semper Fi spirit of the Marines with the striking USMC Strong Pendant Necklace, a fine jewelry exclusive from The Bradford Exchange. Making it even more meaningful, this striking pendant arrives with a heartfelt poem card "USMC STRONG!"
Exquisitely handcrafted in sterling silver plating with gleaming 18K gold-plated accents, this USMC pendant necklace proudly displays 3 rings that roll together to represent the creed that USMC loved ones abide by just as much as their beloved Marines do. The words "Honor," "Courage," and "Commitment" are finely engraved on the back of each rolling ring, while the front of the 18K gold-plated ring is also engraved with the sentiment "USMC Strong." The striking pendant also features a charm of the Marine Corps emblem of eagle, globe and anchor that dangles from the center of the rings.
For My Marine: USMC Dog Tag Pendant Necklace
Marines have always been there for us, ready to make the ultimate sacrifice, defending freedom whenever and wherever it is challenged. Now you can show the marine in your life your true appreciation with the For My Marine USMC dog tag necklace, a fine jewelry design exclusive. This distinctive Marine Corps dog tag necklace bears dramatically detailed symbols and words of honor and arrives in a custom-designed case that includes a sentiment card with the "For My Marine" poem.

This USMC pendant is superbly handcrafted in tough-as-a-Marine stainless steel and features a genuine black onyx stone, framed in stainless steel, strategically placed at the center of a symbolic cross. In sculpted, raised-relief on the black onyx is the Corps emblem in silver and golden tones. Adding to its special meaning, this Marine dog tag is engraved on one side with "USMC", and on the reverse side with "SEMPER FIDELIS", the Marine Corps emblem, and the Corps' values of "HONOR, COURAGE, COMMITMENT." Strong demand is expected for this distinguished dog tag necklace, so don't wait.
St. Michael Men's Military Pendant - Marine Corps
Send them blessings of love and safety with the inspiring St. Michael Military Medallion Pendant.
Front side of the pendant features beautifully carved, detailed artwork of that Marine Corps or another military branch logo surrounded by St. Michael Protect Us.
On the reverse side, any 3-line custom message you choose is skillfully engraved, creating a memorable keepsake they'll proudly wear through the years.
Perfect for his/her birthday, holidays, and/or another memorable time!
~ Rhodium plated chain is 24" with clasp
~ Round pewter medallion measures .875" in diameter
~ Beautifully packaged in a black leather gift box for presentation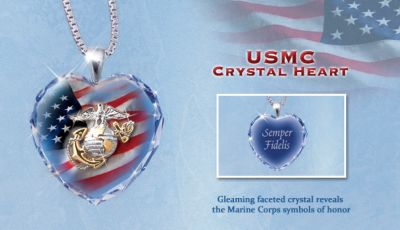 Marine Corps Crystal Heart Pendant
Always ready to serve and uphold the values of duty, honor and courage, the United States Marine Corps are like no other. Now you can honor these proud and distinguished men and women wherever you go with this sparkling United States Marine Corps pendant necklace, a fine jewelry design exclusive.
This exquisite jewelry is handcrafted in sterling silver and features a faceted crystal heart of sparkling royal blue. Embedded inside the heart is a striking image of the American flag and the USMC symbol of eagle, globe and anchor ... The perfect Semper Fidelis pride gift, this patriotic treasure includes "Semper Fidelis" (Always Faithful) etched on its reverse side.
USMC Semper Fi Knife Pendant Necklace


In times of peace and in times of conflict, the United States Marine Corps has always been ready to serve. Now, an attractive USMC Semper Fi knife pendant necklace celebrates the Few, the Proud, the Marines.

Handcrafted in solid sterling silver, this striking pendant necklace boasts rich 24K gold-plated accents. The knife handle shimmers with a hand-set black onyx stone. Honor those who defend freedom with this beautiful United States Marine Corps pendant necklace, a fine jewelry exclusive. The knife's handle showcases the Marine Corps' eagle, globe and anchor symbol. The blade is etched on one side with "USMC"; the reverse side bears the famed words "Semper Fi." Order Now!