Barack Obama Legacy Of A Leader "Speaking" Sculpture
Barack Obama was sworn in as the 44th President of the United States on January 20, 2009. Then, in 2012, he was decisively re-elected to a second term. Throughout his presidency, he brought to America and her people hope, leadership and the change of which he so passionately spoke. Now, in honor of the man who led and inspired a nation comes the Legacy of a Leader Sculpture, a first-of-its-kind tribute. Standing at the podium is an amazingly lifelike, fully sculpted, handcrafted and hand-painted sculpture of President Barack Obama that captures him as he delivers another of his eloquently uplifting speeches. This commemorative President Barack Obama sculpture proudly pays tribute to our history-making 44th president.

Rising beautifully behind Barack Obama is a detailed raised-relief sculpture of the U.S. Capitol, displaying archival photos from key moments in his distinguished presidency. Labor-intensive crafting produces a wealth of details on this Barack Obama handcrafted collectible from the calm assuring gaze in his eyes right down to the flag pin on his lapel. This Obama sculpture stands proudly on a distinguished deep blue base with handsome brass-toned trim and title plaque featuring President Obama's replica signature. Best of all, this sculpture features the actual voice of President Obama delivering some of his most famous speeches. Strong demand is expected for this Legacy of a Leader Sculpture.
Barack And Michelle Obama Commemorative Tribute Hand-Painted Sculpture
For eight years America followed the inspiring story of Barack and Michelle Obama. From Mr. Obama's historic win to their first and second Inaugural Balls, America was captivated by the effortless grace and unwavering commitment of the President and First Lady. We invite you to join us now in honoring their hope-filled presidential story with the Barack and Michelle Obama Commemorative Tribute Sculpture, a first-of-its-kind tribute available in a limited edition. Skilled artisans painstakingly capture the magic of Obama's historic presidency in this presidential tribute sculpture.

Beautifully sculpted, meticulously rendered and hand-cast in the finest artist's resin, and hand-painted with the utmost attention to detail, the President and First Lady are captured at their second historic Inaugural Ball. Standing at nearly 1 foot tall, Michelle Obama is stunning in her red gown; and President Obama is ever-distinguished in his perfectly tailored tuxedo. A metal banner backdrop features a portion of one of President Obama's final campaign speeches plus replica signatures of both President Barack Obama and First Lady Michelle Obama. The base is hand-painted to recreate the look of fine marble and it bears both presidential seal and the statement: "An American Milestone - Barack & Michelle Obama".
Barack Obama Message Of Hope Lighthouse Sculpture Collection
Just as America's lighthouses help guide sailors and their ships safely through treacherous waters, we rely on our presidents to be an inspiration to all those in our great land. Now, you can pay tribute to President Barack Obama and be inspired by his guiding words in this charming Message of Hope lighthouse sculpture collection, a first-ever exclusive limited-edition collection. Your collection begins with Issue One, Change. Soon your collection will continue with Issue Two, Forward, and additional Barack Obama sculptures, each a separate issue to follow.

Fully sculpted and exquisitely handcrafted in artist's resin and meticulously hand-painted, each issue in this collection features a lighthouse with full-color art of President Obama, an American flag and inspiring words taken from his addresses to the nation. Plus, each issue includes the ACTUAL VOICE of President Obama delivering the inspirational words that are also displayed on the sculpture. For the perfect finishing touch, each edition illuminates and displays a brass title plaque on a mahogany-finished wood base.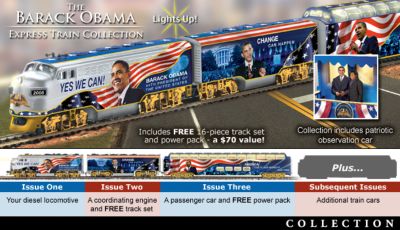 The Barack Obama Express Illuminated Electric Train
Exclusive Barack Obama Collectible Train Collection Goes Full Speed Ahead in Movement for Change! Own a Piece of History Now! - America, this is our moment! Take a ride to change with the 44th President of the United States. An exclusive Barack Obama collectible electric train collection celebrates the energy and excitement of his historic election and the changing tide of the American landscape. The message of hope charges full speed ahead beginning with Issue One, the Yes We Can Locomotive. Soon, your collection will continue with Issue Two, Change, Action, Hope, which includes a FREE HO gauge track, and Issue Three, the Barack Obama 44th President of the United States car which includes your FREE power pack. Additional coordinating Obama memorabilia train cars for the collection, each a separate issue, will follow.
Available exclusively from Hawthorne Village, each issue in this HO scale Barack Obama collectible electric train collection is precision scaled and dramatically decorated with dynamic photographs, popular campaign quotes and messages of patriotism, hope and change. Plus, the engine's working headlight and brightly lit passenger cars symbolize the positive change to our country. Take a historic ride and display your American pride with this heirloom-quality Obama collectible and enjoy it for generations to come. It also makes a stunning Obama themed gift for any American who appreciates the historical significance of this election.