Light Of Freedom Table Lamp
There are few sights more inspiring than a bald eagle in flight. With its outstretched wings and soaring presence, it reminds us of the heights of freedom we can reach. It's no wonder our Founding Fathers selected the eagle as the symbol of our great nation. Now, in a wondrous tribute to limitless American possibilities, renowned artist Ted Blaylock's famed eagle images are paired with Old Glory in the Light of Freedom Lamp, a limited-edition table lamp exclusive. Standing an impressive 19-1/2 inches tall, this one-of-a-kind masterpiece is sure to stir the heart of every American with a unique combination of pictorial artwork and fully dimensional sculpture. A fully sculpted and hand-painted eagle is showcased on the base of the table lamp with wings outstretched and clutching a billowing American flag on a real metal pole in its powerful talons.

Equally unique is a tree growing out of rocky terrain behind the sculpture, symbolizing our strength and resilience as a nation. The handsome barrel shade is crafted of sturdy, textured fabric and emblazoned with Ted Blaylock's gripping scene of a mighty eagle riding the thermals in a misty North American mountain divide against the red, white and blue backdrop of an American flag. A golden eagle finial crowns the top of the lamp, while a mahogany-finished base with golden trim serves as a rich finishing touch to this magnificent Ted Blaylock home decor masterpiece. The Light of Freedom Lamp will truly serve as a commanding statement of patriotism in any room in your home or office.
America The Beautiful Wall Decor
Let the promise of freedom shine bright in an inspirational treasure for your home that showcases the breathtaking art of acclaimed wildlife artist Ted Blaylock with an American bald eagle descending from flight. Now, it's easy to add patriotic pride to your home decor with the America the Beautiful Wall Decor, a exclusive limited-edition. Ted Blaylock's magnificent "America the Beautiful" painting of an American bald eagle perched high above a beautiful backdrop of a star-studded sky, rugged mountains and river below is masterfully recreated on real, weathered wood planks.

At the flip of a switch, the eagle wall art illuminates with twinkling starlight and sparkling water, provided by 20 LED lights - filling your home with soft radiance as it highlights the realistic details of Mr. Blaylock's artistry! And, for the ultimate in convenience, a 24-hour timer turns the lights on and off at the same time each night. At an impressive 2 feet high, this patriotic wall decor is sure to provide a commanding presence in your home or office.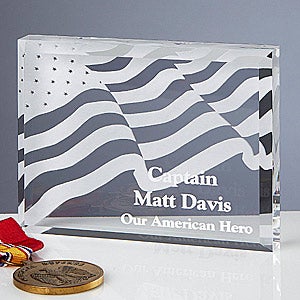 American Hero Personalized Keepsake
Choose the exclusive American Hero Personalized Keepsake for your Son, Brother, Dad, wife, daughter, sister, other loved one ... or another Hero commemorating their military, law enforcement, first responder, or other honorable, valiant service to our beloved USA!
Choose any 3-lines of personalization that will be skillfully laser engraved across the bottom. Include their name, rank, any title, service years, and/or other information ... with an engraved waving flag on the back for a stunning keepsake.
Keep the precious memory of your loved one who is serving, now a veteran, or has passed ... always on proud display!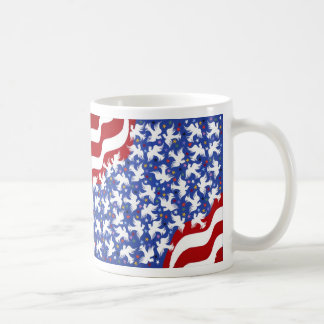 "Red White Blue" Coffee Mug by Metin Bereketli
Show your pride of America with this "Red White Blue" coffee mug that is has a one of kind design by the renowned American artist Metin Bereketli ... And you can personalize it with your name or another phrase ... like "God Bless America".
Available in ...
11-ounce: 3.8" h x 3.2" diameter
15-ounce: 4.5" high x 3.4" diameter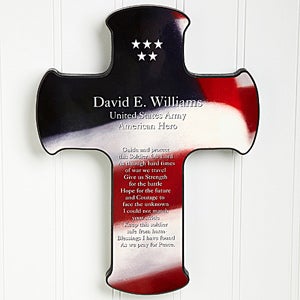 Soldier's Prayer Personalized Cross
Display your love for our country in your home with our Soldier's Prayer Personalized Cross ... Each cross is personalized with any 3 lines of personalization (can be any military service) to create a treasured keepsake. Just below the personalization we feature the touching Soldier's Prayer.

• Artistic graphic of U.S. Flag creating a patriotic keepsake with a loving message
• Quality crafted of solid wood with black-stained edges and high-gloss laminate front
• Measures 7 1/2" W x 9 1/2" H
• Designed for wall display