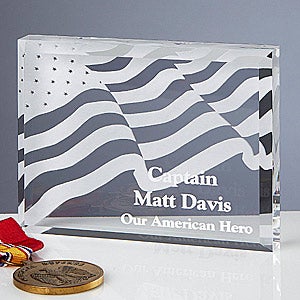 American Hero Personalized Keepsake
Choose the exclusive American Hero Personalized Keepsake for your Son, Brother, Dad, wife, daughter, sister, other loved one ... or another Hero commemorating their military, law enforcement, first responder, or other honorable, valiant service to our beloved USA!
Choose any 3-lines of personalization that will be skillfully laser engraved across the bottom. Include their name, rank, any title, service years, and/or other information ... with an engraved waving flag on the back for a stunning keepsake.
Keep the precious memory of your loved one who is serving, now a veteran, or has passed ... always on proud display!
The Free And The Brave Cold-Cast Bronze Eagle Sculpture Bookends Collection
As an enduring symbol of freedom, farsighted leadership and national pride, the Bald eagle is an inspiration to all Americans. Now, revered American artist Ted Blaylock's stirring eagle artwork inspires an unforgettable treasure of patriotisms in The Free and The Brave Bookends Collection, a collection of 3-piece cold cast-bronze bookends. Your collection begins with Issue One, Noble Pride. Next, your collection will continue with Issue Two, Majestic Power, and will be completed with Issue Three, Land of the Free Because of the Brave, each issue to arrive separately.‡

Handcrafted and hand-painted by Master Artisans, each cold-cast bronze sculpture in this patriotic debut bookend collection highlights the nobility of our national bird, the mighty American eagle. Bald eagles in iconic poses, sculpted American flags and a centerpiece bookend showcasing "Land Of The Free Because Of The Brave" on its title plaque add great detail to this collection. Plus, Ted Blaylock's acclaimed eagle art and the stars and stripes of Old Glory adorn the first and third issues while golden stars and mahogany-finished bases on all the issues add the perfect finishing touches.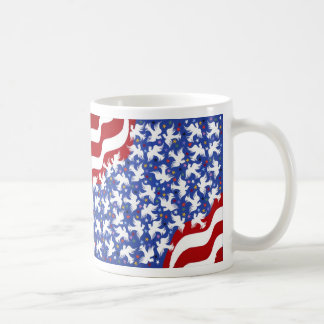 "Red White Blue" Coffee Mug by Metin Bereketli
Show your pride of America with this "Red White Blue" coffee mug that is has a one of kind design by the renowned American artist Metin Bereketli ... And you can personalize it with your name or another phrase ... like "God Bless America".
Available in ...
11-ounce: 3.8" h x 3.2" diameter
15-ounce: 4.5" high x 3.4" diameter
God's Glory™ Bible
God's Glory™ Bible is a limited FIRST EDITION King James Version Holy Bible wrapped in ... 13 stars - 1 gold star representing Jesus Christ and 12 white stars representing his disciples; all of the stars together represent the 13 original colonies of the United States of America! stars and stripes that is printed and bound in the United States of America.
This one-of-a-kind Bible is a large print, red-letter edition that comes in a flag-red presentation box with a certificate of authenticity. God's Glory™ Bible is an heirloom for future generations with both a presentation page and family records pages for personalization.
Additionally, this unique Bible contains inspirational testimonies of four Americans who have made a difference in the U.S.A. by their selfless actions and deeds.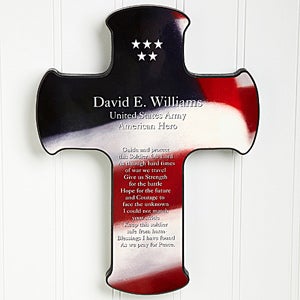 Soldier's Prayer Personalized Cross
Display your love for our country in your home with our Soldier's Prayer Personalized Cross ... Each cross is personalized with any 3 lines of personalization (can be any military service) to create a treasured keepsake. Just below the personalization we feature the touching Soldier's Prayer.

• Artistic graphic of U.S. Flag creating a patriotic keepsake with a loving message
• Quality crafted of solid wood with black-stained edges and high-gloss laminate front
• Measures 7 1/2" W x 9 1/2" H
• Designed for wall display
John Wayne: American Hero Sculpture Collection
In his numerous classic Westerns, Duke showed his true colors - red, white and blue - with every role he played. Now, this American legend stands tall once more in a limited-edition John Wayne sculpture collection, exclusively from The Bradford Exchange. Beginning with Issue One, Trails of Glory, soon your collection will continue with Issue Two, Protector of Freedom, Issue Three, Home of the Brave, Issue Four, True Patriot, and additional John Wayne sculptures, each a separate issue to follow.

Officially authorized by John Wayne Enterprises, this collection boldly salutes Duke's American pride and heroism. Each issue in the collection is fully-sculpted and expertly handcrafted with true-to-life details and patriotic motifs. Hand-painting in subtle antiqued colors gives each sculpture a striking, timeless feel, and full-color artwork of the star in action adds to the thrill. Heavy demand is expected for this inspiring John Wayne collection!