The Patriot Collector's Knife
The Patriot Collector's Knife is a treasure no proud American should be without.
A mighty eagle, wings spread for flight, is perched upon a "God Bless America" banner, and forms the cross-guard of this extraordinary knife. For even more patriotic flair, the grip is wrapped in an intricate American flag design.
Then, as the perfect finishing touch, this incredible showpiece is carefully mounted within a handsome wooden frame, accented with a gold-tone plaque reading, "The Patriot Collector's Knife".
Size: 16-5/16" Tall x 8" Wide x 1-5/8" Deep
America The Beautiful Wall Decor
Let the promise of freedom shine bright in an inspirational treasure for your home that showcases the breathtaking art of acclaimed wildlife artist Ted Blaylock with an American bald eagle descending from flight. Now, it's easy to add patriotic pride to your home decor with the America the Beautiful Wall Decor, a exclusive limited-edition. Ted Blaylock's magnificent "America the Beautiful" painting of an American bald eagle perched high above a beautiful backdrop of a star-studded sky, rugged mountains and river below is masterfully recreated on real, weathered wood planks.

At the flip of a switch, the eagle wall art illuminates with twinkling starlight and sparkling water, provided by 20 LED lights - filling your home with soft radiance as it highlights the realistic details of Mr. Blaylock's artistry! And, for the ultimate in convenience, a 24-hour timer turns the lights on and off at the same time each night. At an impressive 2 feet high, this patriotic wall decor is sure to provide a commanding presence in your home or office.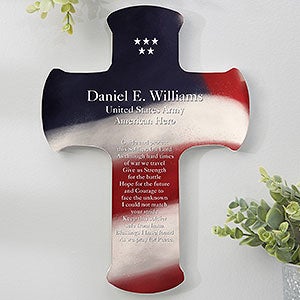 Soldier's Prayer Personalized Cross
Proudly display your love for the USA and support of the troops on a wall in your home, office, and/or elsewhere with the Soldier's Prayer Personalized Cross ... that can be personalized with any 3-lines of text above the Soldier's Prayer.
~ Distressed edges on the front for a rustic look, sides and back painted solid white
~ Ready to hang indoors with a keyhole cutout
Two sizes: 12" X 8" and 7" x 5"
Land of the Free Pocket Knife
America is the greatest country on Earth, and that's not a title that came easily. It was earned through the hard work of those who built it, and by the bravery of the people who defend it.
Now there's a bold new collector's knife designed to pay tribute to our proud nation ... the Land of the Free Pocket Knife.
This rugged stainless steel knife is a must-have for any true patriot. Engraved on its handle is a striking American flag image as well as the inspiring phrase, "Land of the Free Because of the Brave."
What's more, for a personal touch, your initials are inscribed on the blade.
Each knife will arrive in a handsome wooden presentation box, featuring the same patriotic sentiment underneath the lid.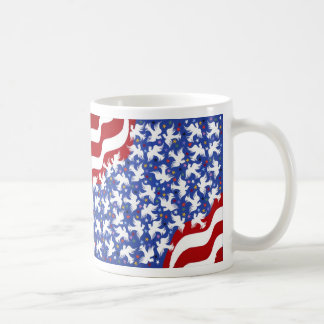 "Red White Blue" Coffee Mug by Metin Bereketli
Show your pride of America with this "Red White Blue" coffee mug that is has a one of kind design by the renowned American artist Metin Bereketli ... And you can personalize it with your name or another phrase ... like "God Bless America".
Available in ...
11-ounce: 3.8" h x 3.2" diameter
15-ounce: 4.5" high x 3.4" diameter
Wondrous Winter Musical Christmas Tree Snowglobe
There's no place like home for the holidays, and this magnificent limited-edition Thomas Kinkade Christmas snowglobe tree perfectly captures that special feeling, combining the golden glow of welcoming homes, festive Christmas carols, and the swirl of sparkling snow!
This innovative first-ever snow-covered tabletop Christmas tree is superbly handcrafted. Four fully sculpted village scenes - including one inside the snow globe - recapture Thomas Kinkade's beloved holiday art. At the flip of a switch, lights glow inside each building and snow swirls through air; flip the switch again to add a medley of eight classic holiday tunes.
All this, and a wealth of sculptural tree trimmings too, from bows and candy canes to a gleaming golden star topper!